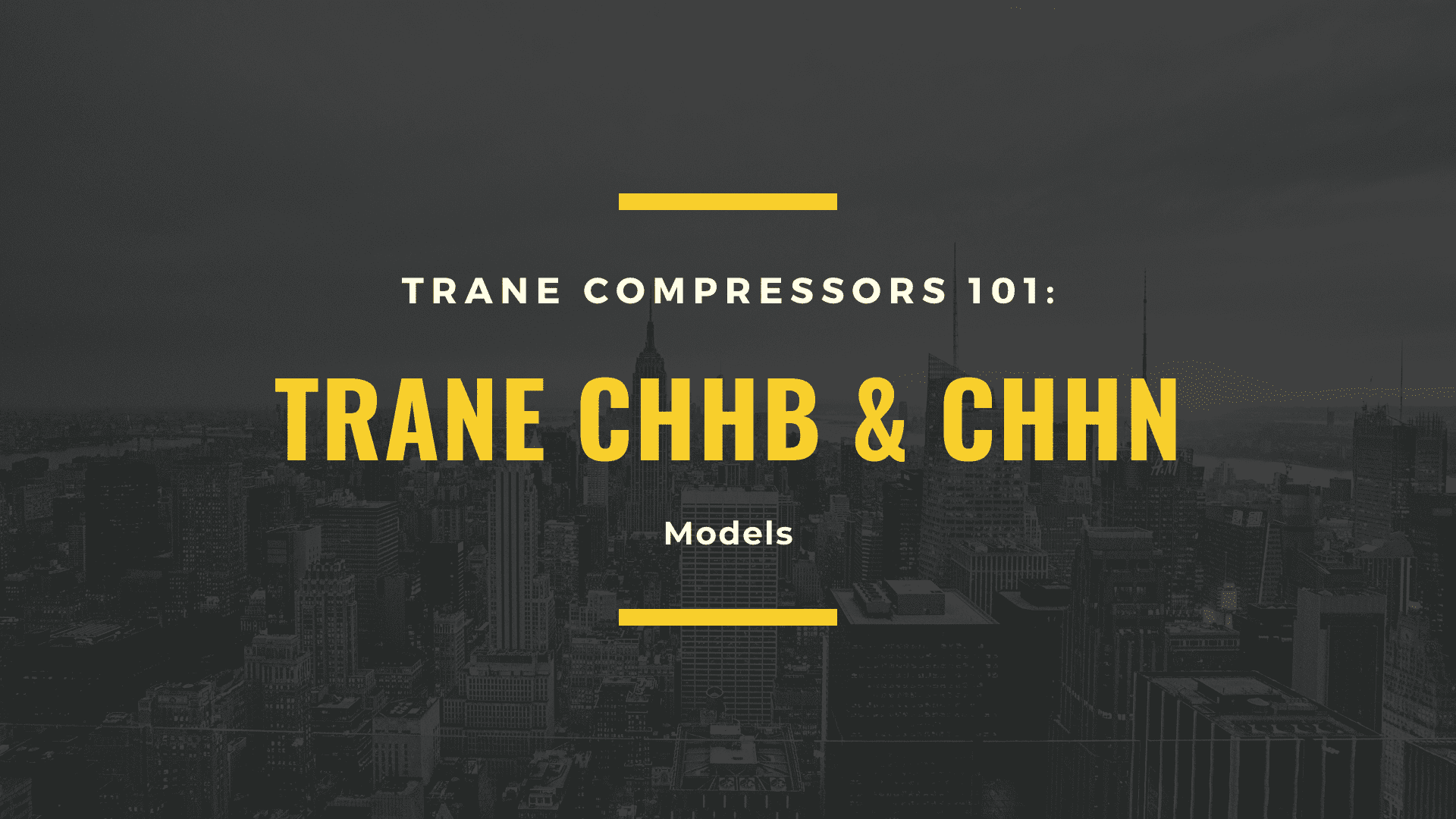 Trane is one of the leading manufacturers of commercial compressor units in the world today.
The brand has been innovating since 1885 when it began as a plumbing firm in Wisconsin. Working together, father and son duo John and Reuben Trane invented a low-pressure steam heating system, leading to Trane as we know it.
It incorporated under that name in 1913, expanding internationally by 1931.
Today, Trane is recognized worldwide as a leader in HVAC and refrigeration. Some of its industry-leading firsts include the unique Turbovac water chiller and the CenTraVac, which set a new gold standard for commercial air conditioning.
These days, Trane is also well known for its efficient and reliable screw compressors.
The screw compressor was first developed in the 1930s, and Trane was a leader in its design. As the male and female rotors rotate in opposite directions, air is drawn in between them. Airflow through the rotors leads to compression – that air is gradually displaced to the outlet.
There are some major performance benefits to this design:
Minimal mechanical losses thanks to high-speed heating

Reduced volumetric losses compared to piston air compressors

No valves and no mechanical forces that can cause unbalance

Extremely high operating speed combined with large flow rates

Exceptional overall performance contained in a compact footprint
Screw compressors are optimal in situations where large volumes of high-pressure air are needed on a continuous basis. They can be used in both mobile and standalone settings. In fact, they are growing in popularity within refrigerated van fleets around the country.
Designed to counteract the engineering drawbacks of reciprocating air conditioning and refrigeration compressors, they usually represent a larger upfront investment. With appropriate maintenance, however, the right screw commercial compressor can exceed expectations in longevity.
That's especially true of Trane products.
For the best value, two Trane screw compressor models stand out: CHHB and CHHN.
The Trane Screw Compressor Combines Performance and Reliability
The basic engineering concepts of the industrial screw compressor are very sound. However, Trane takes them a step further with the patented Trane Helirotor design. The Trane Helirotor pares down the screw compressor to its essentials, removing points of fault and making maintenance easier.
The Helirotor compressor has just three moving parts, including the two rotor assemblies. There are no pistons, rods, rings, valves, and no need for a mechanical oil pump. Engineers have estimated that the average reciprocating compressor has about 15 times as many components.
Trane Helirotor compressors are available in sizes ranging from 35 tons to over 400 tons.
This includes three distinct size categories:
Intermediate (CHHB)
General Purpose (CHHN)
35 tons

40 tons

50 tons

60 tons
GP2 (CHHP)
70 tons

85 tons

100 tons

120 tons
All in all, the Trane CHHB screw compressors and Trane CHHN screw compressors make up the majority of the market. No matter which one is right for your application, you'll receive the great benefits of Trane's many decades of engineering know-how.
Trane Screw Compressors Stand Out for Resistance to Liquid Slugging
Liquid slugging is a major problem for reciprocating compressors.
The unexpected movement of refrigerant, oil, or even moisture infiltration of any kind can lead to a catastrophic failure. Trane Helirotor compressors can ingest amounts of liquid refrigerant that would cause severe damage to the piston rods of reciprocating compressors.
Liquid slugging can be caused by many factors, of which these are only a few:
No compressor superheat

Off-cycle migration

Bad TXV or TXV hunting

Low load or end of cycle (i.e. lowest load)

Damaged evaporator fan

Blocked, iced, or dirty evaporator coil

Problems with defrost heater or timer
All in all, about a dozen separate causes are responsible for cases of liquid slugging. Although refrigerant-cooled compressors are more resistant to the phenomenon than air-cooled ones, these causes can't be eliminated – Trane CHHB compressors provide a much higher margin of error.
Trane CHHB and CHHN Compressors Are Easy to Install, Launch, and Operate
Trane has also rethought the basics of compressor control systems.
The company's Adaptive Control Microprocessor, deployed on Trane CHHB industrial compressors and their smaller CHHN cousins, enables Trane units to sustain performance under conditions that would stop the average compressor in its tracks: Especially when high ambient temperatures place greater demands on the unit and its services are vital.
The Adaptive Control Microprocessor allows the unit to sense control variables through an array of sophisticated sensors. It is constantly monitoring the motor draw, temperature of the various components, and more.
This allows the compressor to make sophisticated internal adjustments that modulate internal conditions, maintain the unit within its tolerances, and keep it online between scheduled maintenance checks.
Trane compressors are some of the best on the market. A remanufactured Trane screw / helirotor compressor is ideal for bringing tomorrow's standards of reliability to you today. Contact us to learn more.