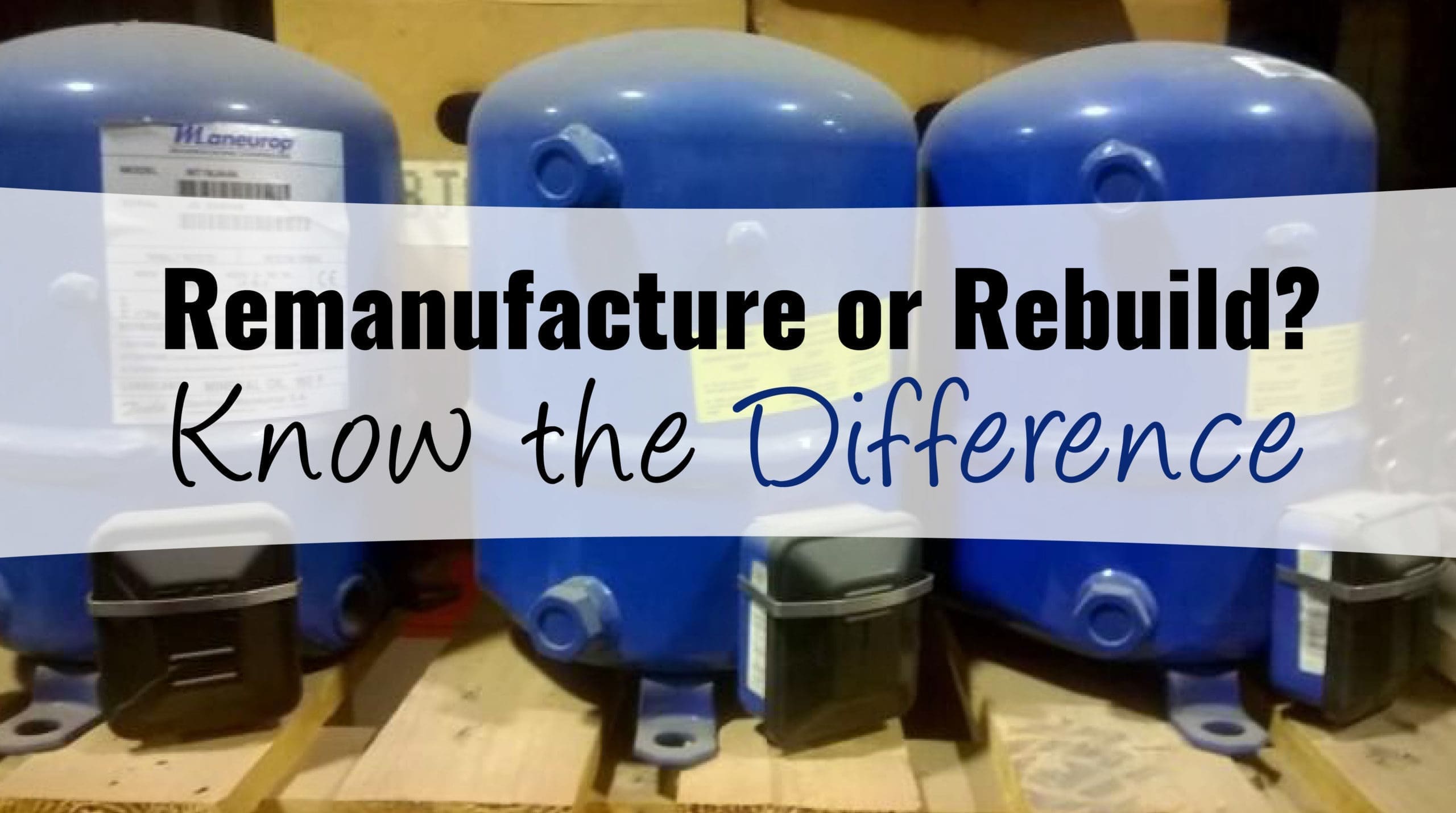 How hard is it to spot a new commercial compressor versus an old one? The answer is, it really depends on what you're looking at. For many people, identifying the age and quality of a particular compressor is nearly impossible, because it all comes down to the components inside. Today, there are three main categories of commercial compressors available for sale: new, rebuilt and remanufactured. Knowing the difference between these three products will determine how good of a deal you get on your next buy.
Is it New?
While OEM manufacturers do continue to produce new products year after year, the cost of purchasing a brand new compressor directly from the OEM can be quite high. Unless you are building new construction or have a particular reason for wanting a brand new compressor, most service companies will offer less expensive alternatives first. Generally speaking, the OEM's only offer 100% new semi-hermetic compressors when they are included in the sale of a new system. Otherwise, you can expect that they purchase will be a remanufactured unit and that there will be a core charge either built automatically into the purchase price or a credit will be offered if you choose to return the defective compressor.
The Next Best Thing: Remanufactured
When new compressors are not the most logical option, remanufactured commercial compressors are the next best thing. A remanufactured compressor is a unit that has been sent to a shop, stripped down completely and cleaned inside and out. Then it is reassembled using new components. That means that anything wearable on the inside of the compressor is automatically replaced, bringing it up to like-new conditions internally. When this process is completed, the compressor is then tested to assure that it performs according to the original manufacturer's specifications. In other words, it has to act just like a new compressor if it was coming straight out of the box for the very first time. This testing process is extremely important and is typically used to produce a certificate of warranty that will protect you against any issues that may occur with the remanufactured compressor for several years. Depending on the company doing the work, remanufactured compressors might also be repainted and cleaned up on the outside to look like new as well, but this alone should not be used to determine the quality of the work done inside.
Rebuilt Compressors
By comparison, rebuilt compressors are a last resort. This is because the rebuild process does not require the same integrity as a remanufacturing program. For instance, with rebuilding, a company may use parts from several older compressors, combining them to produce one complete compressor that is within operating tolerances. This is a crucial difference. A rebuilt compressor is only tested to see that it runs within tolerances for an average compressor of its type, but it does not have to meet the stringent manufacturer specifications for a new compressor. In addition, since these compressors are pieced together from a variety of parts that have worn differently and are at different stages in their lifespan, most rebuilt compressors come with only a minimal warranty coverage and no guarantee for the long term. Watch out for companies that repaint old compressors and market them as rebuilt or remanufactured without doing the real work on the inside to restore the compressor to its original status.
As you can see, knowing the difference between rebuilt and remanufactured compressors is extremely important for choosing a quality replacement for your building. Make sure you pay close attention to what you are buying so you don't overpay for a compressor, used or new! To learn more about remanufactured compressors from Compressors Unlimited, visit us today or speak with one of our compressor experts to find out about our remanufacturing process.