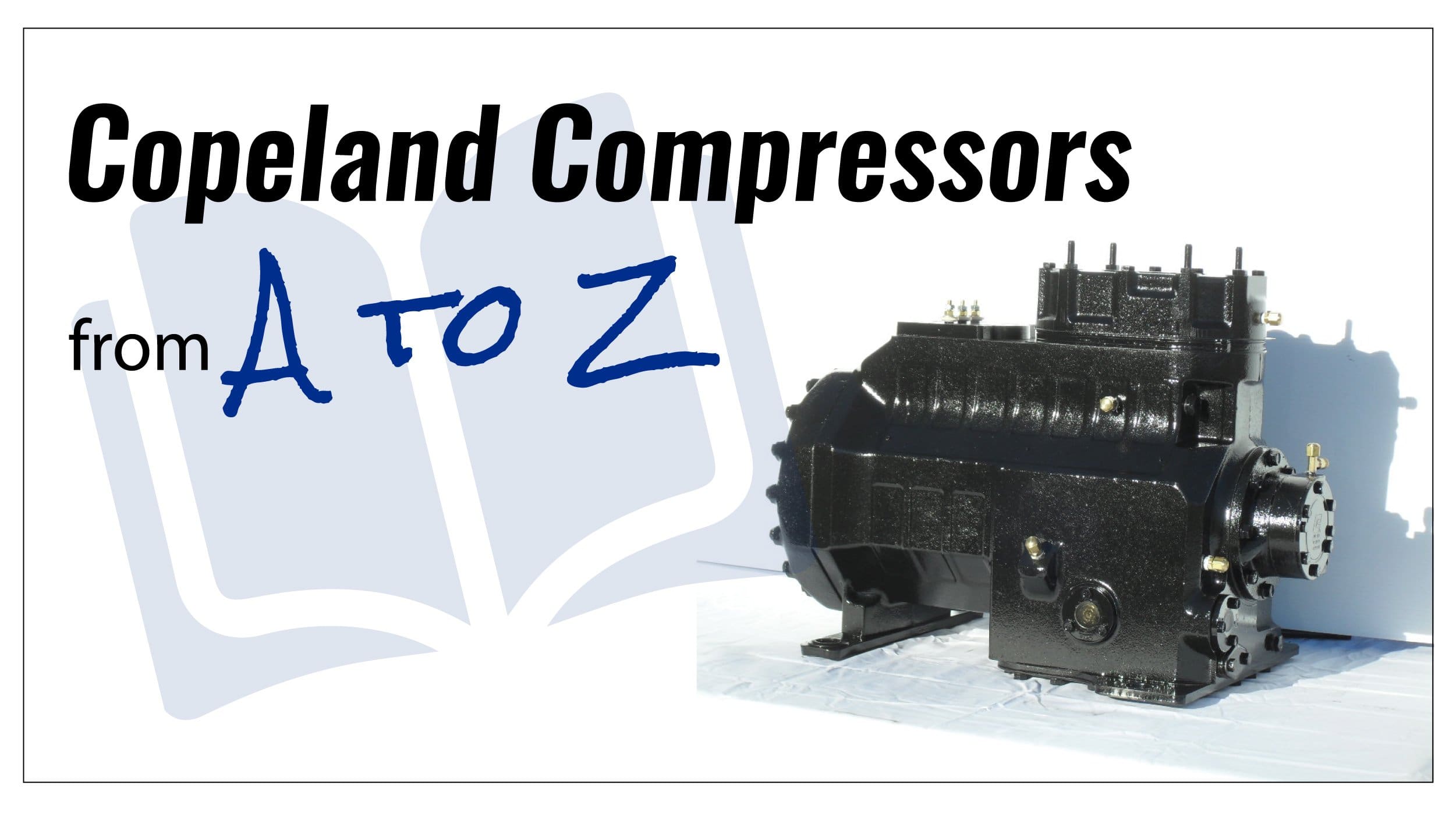 From the cold drinks that quench our thirst to the cool air that keeps our homes cozy, Copeland plays a part. Copeland compressors sit at the center of our HVAC and refrigeration systems. Homeowners, businesses, and industries are dependent on Copeland to provide some of the best compressor options available to the industry.
Originally manufactured by Emerson, Copeland Compressors enjoy high recommendation. Every compressor that leaves the production chain undergoes tests for quality. The result is a reliable, quiet, and long-lasting compressor.
I can go on and on but, here is all you need to know about Copeland compressors.
Copeland Products
1. Copeland Compressors for Air Conditioners
Copeland Scroll boasts the broadest line of compressors compatible with air conditioning units. Copeland compressors range from 1/3-60 HP, perfect for both residential and commercial applications.
Comfort requirements, efficiency standards, and technology shape the design of Copeland Scroll Compressors. Here is how Copeland Scroll compressors compare against each other.
Modulation Technology

Model

Application

Benefits

Fixed

Recip

CR

AC, Refrigeration

Internal temperature and pressure protection
Residential and commercial application

Fixed

Small Model

KA

13-14 SEER AC

Internal temperature and pressure protection
Quiet shutdown
Reliable operation
Energy efficiency
Optimized scroll and seal design

Fixed

5G Scroll

K5

13 SEER AC and heat pumps

Internal temperature and pressure protection
Quiet shutdown
Reliable operation
Residential and light commercial application
Optimized scroll and seal design

Fixed

Enhanced

5G K6

14+ SEER AC and heat pumps

Internal temperature and pressure protection
Quiet shutdown
Reliable operation
Residential and light commercial application
Optimized scroll and seal design

Modulation

Two-Stage

ZPS

15-16 SEER AC and heat pumps

Enhanced comfort plus humidity control
Improved part load and full load performance
Optimized for 15-16 SEER tax credits and Energy Star
Available in 2-10 HP; single and three-phase

Modulation

Variable Speed

VS: K1/K2

16+ SEER high-efficiency AC and heat pumps

Excellent efficiency and energy saving for AC and heat pumps
Revolutionary comfort; enhanced temperature and humidity control
Proven reliability; compressors enhanced with CoreSence Technology.
2. Copeland Compressors for Refrigeration
Copeland Scroll compressors provide reliability and efficiency for commercial refrigeration applications. These compressors can support reach-in coolers, walk-in refrigerators, freezers, and ice machines.
Copeland Discus compressors are a leader in the commercial refrigeration industry. All compressors under this production line combine reliability and world-class efficiency.
Copeland Reciprocating Hermetic compressors feature a compact design that is perfect for space-constrained appliances. These compressors enjoy optimization for low temperature and high duty cycles. These compressors are also compatible with R-22, R-144a, and R-404A/507 refrigerants.
Copeland Compressors: Markets
Copeland compressors enjoy a wide range of applications. Application ranges from residential use to commercial refrigeration and air conditioning.
Residential Markets: Copeland Scroll Modulating compressors complements air conditioning systems for homes. You can set your desired levels of temperature and humidity.
Commercial Markets: From small offices to supermarket floors, Copeland compressors provide reliable air conditioning and refrigeration solutions. From Copeland Compressors, you get high efficiency and low sound levels.
Copeland Scroll™ Technology (ASTP)
Emerson, the company behind Copeland, set the industry on its head when they pioneered Scroll Technology. Since then, Copeland Scroll™ technology leads at the forefront of HVAC and refrigeration applications.
The ASTP feature protects your compressor from high discharge temperatures. Thanks to temperature protection, you can enjoy a longer product life.
Advanced Scroll Temperature Protection is available in the ZR 84-190 KC/KCE and ZP 90 KCE models.
Copeland Customer Support
Emerson provides technical support to all owners of Copeland compressors. You can get comprehensive product insights via Copeland's Online Product Information.
The information covers topics such as;
Product Specs for Compressors and Condensing Units.
Preliminary and Obsolete Compressor, Service parts, Data, and Accessories.
Rating Coefficients, Sound, and Vibration Rating.
Wiring Diagrams, Drawings, and Cross Reference Data.
Competitor to Copeland AC Compressor Cross Reference.
Copeland Obsolete to Copeland New AC Compressor Cross Reference.
Copeland Product Supersession and Copeland Part Cross Reference.
You can also access education and training modules through Emerson's Training Portal. In case of more technical support, you can contact Emerson Technical Support.
Summary
Emerson is a global engineering and technology company that provides solutions for residential, commercial, and industrial markets. Copeland compressors are one out of many products conceived by Emerson.
Copeland compressors are a significant player in the HVAC and refrigeration industries. Due to the quality and performance, many have learned to trust Copeland compressors.
Copeland boasts a wide range of compressors that enjoy the residential and commercial application.
Impressive technology, a satisfactory line-up of products and reliable customer support. These are everything that you need to know about Copeland compressors.