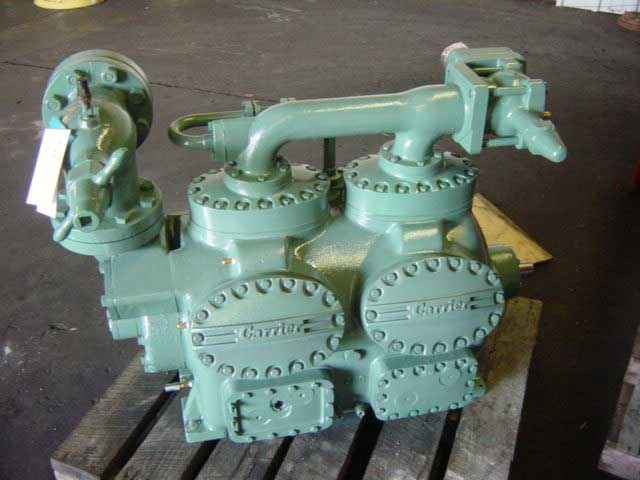 Carrier is one of the leading compressor brands in the United States today. When you need a piece of equipment you can really trust, Carrier compressors stand out for reliability, efficiency, straightforward maintenance needs, and affordable cost of ownership.
All these factors are particularly important in marine and offshore applications. The demands placed on a marine compressor often cause these units to have short operating lives and be expensive to maintain. Through it all, Carrier stands up to the most challenging situations.
Its commitment to excellence is clear in the Carrier 5H compressor series.
For Comfort or Refrigeration, Carrier 5H Compressors Are Second to None
With a reputation for combining versatility with reliability, Carrier 5H is a go-to option for any marine condensing unit. It is available in both belt- and direct drive modes and is compatible with a full array of modern refrigerants.
Every Carrier 5H, including the 5H60, 5H80 and 5H120 compressor can use:
Carrier's 5H compressors are known for their low cost to deploy, since you don't need a pricy high torque motor to get the performance you want. This is one of many reasons why 5H can be an ideal selection when you're looking for a powerful, yet cost-effective remanufactured unit.
5H achieves a smooth and unrestricted flow of refrigerant through its innovative design approach to crankcase casting, cylinder heads, and valve plating. Seal leakage is virtually unknown due to the two-piece shaft seal assembly based on thousands of hours of testing and feedback.
Many common causes of marine compressor damage are rare or nonexistent with the Carrier 5H.
The Carrier 5H Uses Innovative Technologies to Address Common Points of Fault
Carrier has not rested on its laurels when it comes to its marine compressor designs. In fact, it is one of the most responsive companies in the market. It is known to interface regularly with industry leaders in oil and gas, logistics, and many other areas demanding marine excellence.
This is especially notable in three of 5H's upgrades versus marine compressors of similar load:
Accumulation of liquid refrigeration in the crankcase is one of the most significant dangers that could befall previous era marine compressors, leading to major repair bills. Sometimes, the whole unit would need to be replaced. The 5H incorporates a unique crankcase heater design that prevents this accumulation from occurring during shutdown.

When units fail to accommodate sudden changes in demand, they can work too hard, resulting in lower energy efficiency and greater mechanical stress. Carrier's industry-leading capacity control function automatically reduces the compressor capacity to as low as 35% of peak load. Partial load operation can save thousands of dollars annually.

Carrier has examined every system in the 5H series to ensure it reaches its full operating potential. The large capacity oil pump can be reversed manually. It couples with a state of the art automatic pressure regulator and oil filtration system, extending service life through positive pressure. Suction gas flow is optimized to reduce cylinder wear, too.
By designing the 5H as an oversized compressor that consistently operates at a lower RPM, Carrier has enabled new operating efficiencies throughout the system. Few other commercial compressors suited for marine applications have the efficiency or longevity offered by a Carrier 5H.
5H is the Ideal Choice for a Remanufactured Marine Compressor
Due to the environmental stressors of the marine work environment, many compressors aboard ships and on oil platforms have a shortened lifespan. They can fall prey to pressures such as salt build-up that are rarely or never encountered in more controlled environments.
With this in mind, it's especially risky to purchase a rebuilt marine compressor.
A "rebuilt" compressor has often been cleaned and repainted. Some damaged components may be replaced. However, it has not been given the real care and attention necessary to verify reliable performance – in fact, a rebuilt marine compressor may blow out within hours of installation.
If you need to bring a new compressor online fast, a remanufactured unit is your best bet.
With a remanufactured Carrier 5H compressor, you get performance comparable to an all-new OEM unit at a major discount – often 30% to 40%. The compressor is completely disassembled, examined, updated, and tested, with components all throughout the unit replaced with excellence in mind.
A remanufactured compressor enables you to reduce your turnaround time by weeks and bring your new unit into service with a minimum of business disruption. With regular maintenance, it can last every bit as long as any comparable compressor on the seas.
When you want a Carrier 5H, it is particularly important to select the right remanufacturer.
A remanufacturer must have experience with the Carrier brand and its groundbreaking responses to engineering challenges. Likewise, it's crucial for the team to be informed about marine compressors and the demands of your project to make your replacement successful.